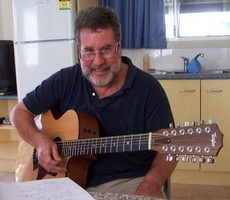 Scored the lowest possible matriculation score at CGS. Graduated in Economics 1972, Dip Ed 1973, Politics (Hons) in 1975. Taught in Canberra – Deakin, Stirling, Campbell, Belconnen, Narrabundah.
At Deakin High School was involved in teachers band, Chorque and played on the club circuit for a number of years. A crap band but the punters loved the "show".
Married Miriam Simons in 1981. Four children – Michelle, Ari, Monique and Rohan.
Married Suzie Dennett in 2005 and retired to Sanctuary Point, NSW, to a life dedicated to windsurfing and music. Still jamming and am interested in a jam with Bob Doyle, Paul Hohnen, John Harvey, Greg Peters on reunion night (or any other time).
Photos
Click any photo to enlarge. While enlarged click the left/right side of the image for the previous/next image, or use the left/right arrow keys for the previous/next image. ESC or clicking "close" closes the enlarged view.