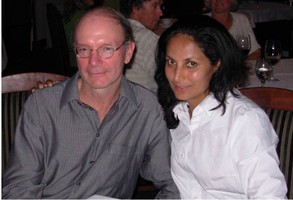 John "Geek" Handmer 1963-68. My memories of the school are a mixture of athletics, keeping up with Dave Gordon and Peter Ellerman in science, and Andrew McDonald in geography, regular weekend bushwalking escapes into the Brindabellas often during swirling snowstorms, lots of parties including those thoughtfully provided by the Student Christian Movement, and those from the Girl's School and Catholic Girls High who joined in. I marvel now at the freedom to organise ourselves that we seemed to have then.
Once at university it took a few years to shake off a fascination with motorbikes and other distractions – with my High-Distinctions in those subjects unrecognised – before I could do well enough to get through, do a masters at Toronto, Canada, and a PhD at ANU. I worked as a motorcycle mechanic for many years until my PhD. Since then I've worked as a researcher on disaster policy at ANU, Middlesex in London and RMIT in Melbourne. I've been married twice, now to Ramona and although we have no children there are many nieces and nephews.
Last big bushwalk was the Tassie overland track a couple of years ago, and yes it snowed the whole way. Travel a lot and have lived in Canada, London, Vanuatu and the Solomon Islands. I see Dave Gordon occasionally, but rarely meet any others from our year. Spent way too long on bikes, travel, and other non-profit pursuits before I started to work properly, so any possibility of retirement is still many years away!
Photos
Click any photo to enlarge. While enlarged click the left/right side of the image for the previous/next image, or use the left/right arrow keys for the previous/next image. ESC or clicking "close" closes the enlarged view.