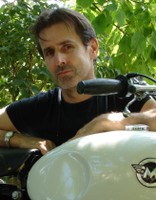 Neil Moore, boarder 1967 and 1968. Arrived from Lyneham High, immediate problems with length of hair and unavailability of Art as a matriculation subject. Did the subject after school with Dickory Rudduck and Fred Arunsen. Came first in state in Higher School Certificate Art and went on to study Fine Arts and History at Sydney Uni. Dip Ed followed by four years as tutor in Fine Arts Dept, though real interest in this period the restoration of old motorcycles.
Change of course in 1979 with a return to practical art and a job off and on for the next 10 years as an illustrator for Fairfax Newspapers (Walkley award in 1980). Travels abroad also in this period, with exhibitions of etchings in London, Berlin, France and Italy.
In 1987 house bought in a medieval village in Umbria, and in 1988 permanent move there with soon to become wife Carol Searle and her then 9 year old daughter Amber. Claudio born in 1990, Leandro in 1996. 13th century ruined tower becomes the family home in 1994, and shortly after Living Italy business established, which specializes in introducing Australians to the many delights of Umbria. Currently occupied as portrait painter, (neilmoore.it) tour guide and part time builder, with return trips to Australia becoming increasingly frequent.
Photos
Click any photo to enlarge. While enlarged click the left/right side of the image for the previous/next image, or use the left/right arrow keys for the previous/next image. ESC or clicking "close" closes the enlarged view.