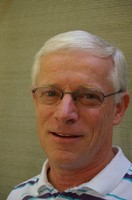 Peter Bridge 1963 to 1968, Jones House.
Worked as Rates Clerk Mulwaree Shire Council (Goulburn) 1969-71. Goulburn Teachers College 1971-73. Taught in Western Suburbs of Sydney (Kingswood South, Mt Riverview, Hobartville, Mulgoa) until end 1989. Undertook tertiary studies and promotions during that time being Deputy Master at Hobartville and Assistant Principal at Mulgoa.Utilized school holidays over the years and travelled extensively overseas.
Finally slowed up and met Margaret (Reid) at a CEGGS Gabriel Foundation function in 1988. (Margaret was the Finance Manager at CEGGS) Married in the CEGGS Chapel in 1989. Promoted as Principal at Chatsworth Island Public School in 1990. David born in 1990, Andrew born 1992. Owner built home on 17 acres overlooking Maclean and the Clarence River 1991 and became a registered Dexter Stud raising Irish Kerry Dexter cattle.
Margaret diagnosed with cancer 1993, died 1995. Married Louise 1996 Daughter Claire born 1997. Retired 2006 to enjoy being a husband and father and restoring cars. This years project a 60 years old grey fergy (Henry Wilson would love that!) Pleased to see anyone if you are travelling through the North Coast region
Photos
Click any photo to enlarge. While enlarged click the left/right side of the image for the previous/next image, or use the left/right arrow keys for the previous/next image. ESC or clicking "close" closes the enlarged view.