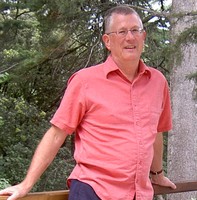 Fred Barnes, 1965 to 1968, Jones House, brother Rob 2 years younger at school too, Cross Country, suspended along with Peter Ellerman (and someone else ?) after drinking beer at school one weekend, which bona fide traveller Doug Jerrems obtained on his motor bike from Queanbeyan pub.
Dropped out of accountancy in 70s, later completed two diplomas. Married Judith in '78, 2 daughters and a son, first grandchild due in August. Army Reserve for 11 years, one of select group of only 1 million to be award the Australian Defence Medal. Ran 10k Canberra Times Fun Run in 39:59 at age 39 … was fit, trying to get fit again. Ran a successful financial planning practice for 35 years until sold last year, now working 4 days a week for the buyer and holidaying more, in move to retirement.
Enjoy travel, food and wine, weekend meals with Ellermans, Bootes, Browns and Cricks, live theatre and cinema, Brumbies, golf and looking forward to more of all.
Photos
Click any photo to enlarge. While enlarged click the left/right side of the image for the previous/next image, or use the left/right arrow keys for the previous/next image. ESC or clicking "close" closes the enlarged view.